The Business Casual - May 2021
Thursday, May 13, 2021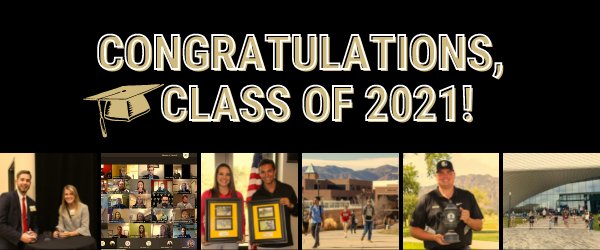 College of Business Students,  
As we close on the semester and prepare to celebrate the Class of 2021, we reflect on another eventful academic year at UCCS. We are proud of you for committing to your classes and working towards your degree. No matter what your semester looked like, you moved one step closer to your educational and professional goals, and that is a reason to celebrate!
In Spring 2021, you had the opportunity to attend 20+ professional development events and workshops, including Virtual Career Networking Night, which welcomed over 180 students, alumni, and employers from across the country. You participated in internships, resume reviews, mock interviews, and the mentorship program. If you are looking for job or internship opportunities this summer, please visit Handshake or contact the Career Development Center at cobplace@uccs.edu.
You also demonstrated your commitment to principle-based ethics and ethical conduct. We introduced four new Student Ethics Ambassadors, cheered on our fellow classmates in the Daniels Fund Ethics Initiative (DFEI) Case Competition, submitted essays and videos in our annual ethics contests, and attended virtual events to discuss a variety of ethical issues.
Thanks to the UCCS Sport Management Program and the DFEI Collegiate Program at UCCS, we also welcomed Dr. Tommie Smith to speak virtually about his experiences with athlete activism and protest in sport. If you missed it, you can watch the virtual event recording here.
This Friday, we will participate in a virtual celebration to recognize the Class of 2021, and on Monday, we will recognize them in-person at the Picture on the Plaza event. Earning a degree is a tremendous achievement and we are so proud of our business graduates for completing their final semester at UCCS. This marks the first in-person celebrations since we moved remote last Spring, and I am thrilled to join the Class of 2021 on campus for this important milestone. To watch Virtual Commencement, please visit commencement.uccs.edu. The virtual ceremony will begin on May 14, 2021 at 1pm on YouTube Live. The Picture on the Plaza event will take place on Monday, May 17, 2021 at 9:30am on UCCS campus.
It has been an honor to serve my first full academic year as your dean and I thank you for your hard work these past few months. I hope you all enjoy a much-needed summer break to rest and recharge before the next semester. If you haven't already, I encourage you to enroll in your courses for Fall 2021. As Chancellor Reddy announced earlier this year, we are beginning to plan for on-campus experiences in the fall and we are so excited to see you in-person!
If you have questions about the enrollment process, please contact your Academic Advisor at advising@uccs.edu. Our business-specific advisors are available to answer any questions you might have about the upcoming semester.
Have a wonderful summer break!
Warmest Regards,

Karen S. Markel, Ph.D.,
Dean, UCCS College of Business
[ College of Business Home ]