Dwire Inquirer - May 2020
Thursday, May 21, 2020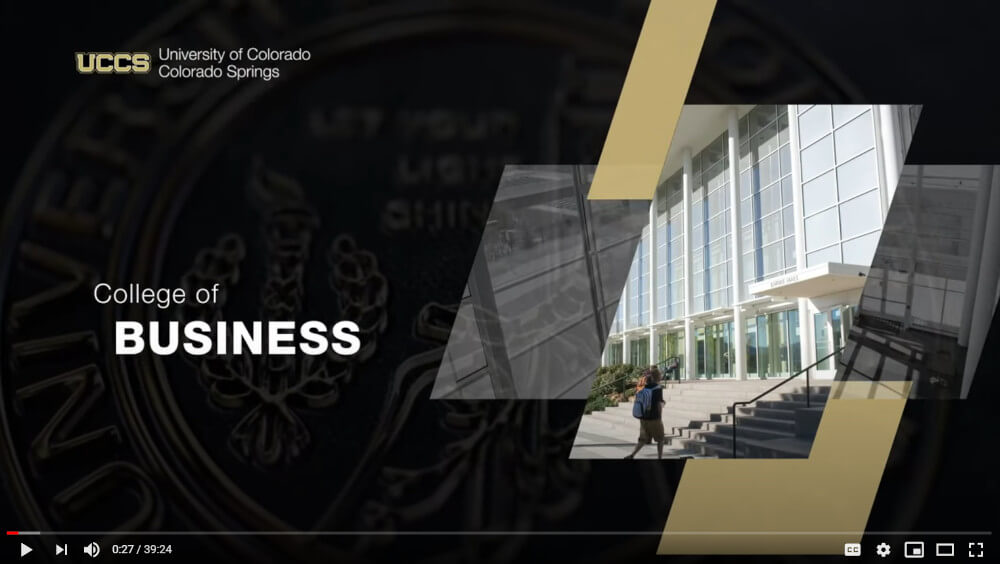 Dear Friends,
Last Friday, we participated in a historic celebration for the Class of 2020. Instead of adorning our academic regalia and gathering at the Broadmoor World Arena, we honored our graduating students in a Virtual Commencement ceremony. Achieving a degree is a tremendous achievement and we are so proud of our business graduates for their resiliency as they completed their final semester at UCCS. While we would have preferred to celebrate their accomplishments in person, we are grateful for the opportunity to recognize them virtually.
For those of you who missed the College of Business ceremony, you can still watch it here. This is much shorter than a full graduation ceremony, so be sure you see Dr. Stidd and her daughter's concluding cup stacking routine. And a big thank you to all who submitted video clips and/or helped put this together.
In my role as Interim Dean, I've had the opportunity to witness the extraordinary efforts of our faculty, staff, and students as they weathered a semester of unprecedented change and transition. In a matter of weeks, we were required to move our learning and work environments to a remote format. The transition was handled with grace and professionalism. Thanks to the commitment of the entire College, we finished the semester and we remain a strong, collaborative, and innovative school of business.
This semester, we celebrated several significant accomplishments in the College of Business. At the turn of the year, we received notice that the Daniels Fund Board of Directors renewed our grant for $1.625 million. We look forward to utilizing this grant to champion ethical discussion and leadership throughout southern Colorado over the next five years.
In February, the College of Business was awarded nearly $6 million by the U.S. Department of Labor to administer the Colorado Cybersecurity Apprenticeship Program (C-CAP). This grant enables us to address the cybersecurity skills gap head-on as we provide aspiring professionals with the tools to earn mid-level and advance-level cybersecurity roles. C-CAP is one of several initiatives that will continue to strengthen UCCS' position as a destination for world-class cybersecurity education and training.
In the College of Business, we strive to offer innovative programming that aligns with industry needs. This mission is reinforced by several new programs approved for launch in Fall 2020. Next semester, students may pursue a Bachelor of Science, Bachelor of Innovation or a Master of Business Administration in Cybersecurity Management. Additionally, aspiring sport professionals may now pursue a Master of Business Administration in Sport Management. These new programs are also available as certificates for non-degree students seeking growth opportunities.
In April, we successfully maintained our accreditation by the Association to Advance Collegiate Schools of Business (AACSB). AACSB is the hallmark of excellence in business education and we are proud to have earned this prestigious accreditation for over 30 years.
On June 1st, we will welcome our new Dean of the College of Business: Dr. Karen Markel. Dean Markel is an accomplished educator, researcher, and leader in business - we look forward to her leadership in propelling our business school the next decade. Read more about Dean Markel here.
It has been an honor to serve as interim dean this past academic year and I thank you for your role in helping support our efforts and initiatives.
Best Regards,

 Eric M. Olson, Ph.D.,
Interim Dean, UCCS College of Business
[ College of Business Home ]