Dwire Inquirer - September 2020
Wednesday, September 30, 2020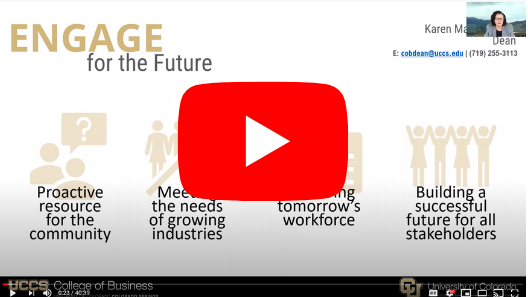 Dear Friends of the College of Business,
Earlier this month, we held an event with the Colorado Springs community to discuss the variety of opportunities to engage with the College of Business. Faculty, staff, and administrators put together an excellent presentation to highlight student and career development, volunteer, philanthropic, professional development, ethical and research opportunities available between the College and the community. As I mentioned in the presentation, I want the College of Business to be a proactive resource for the community. Through close collaboration with professionals and businesses, we hope to anticipate future needs and develop programming that aligns with community interests. Watch the Engage with the College of Business webinar here.
Career readiness is at the heart of our business programs. We understand that your businesses need professionals with both the education and experience to succeed in a modern workforce. Our College of Business Career Development Center is dedicated to this mission. Through their office, employers can post positions, interview students, host internships, and increase brand recognition among our student body. Our business alumni are also encouraged to utilize the Career Development Center for career support and guidance.
On September 16th, we hosted our first Virtual Career Networking Night. Over 150 students met with organizations from around the state offering networking, internships, and job opportunities. Thank you to our participating employers that helped make this virtual event a success. I would also like to thank our Career Networking Night Partners and our Annual Partners for dedicating time and money to support our students in the College of Business. We look forward to hosting the Spring Career Networking Night on February 17, 2021.
We are also proud to announce that the Career Development Center was recognized as one of the 2020 CU Innovation & Efficiency award recipients for their enhanced employer vetting process with the Better Business Bureau of Southern Colorado (BBB). The CU Innovation & Efficiency Awards Program recognizes people across the university system that implement unique ideas to improve CU business processes. Student safety is our top priority and I am thankful for the ongoing efforts of Dr. Meghan Stidd, Assistant Dean for External Relations, Mark Paquette, Principal Program Coordinator for the Career Development Center, and the BBB to ensure our students pursue opportunities with safe, ethical, and compliant businesses.
Tomorrow, we will gather as a community for the UCCS Economic Forum and State of Small Business event. We look forward to hearing timely presentations from Aikta Marcoulier, Executive Director of the Pikes Peak Small Business Development Center, Dr. Tatiana Bailey, Director of the UCCS Economic Forum, and David Nelsen, a nationally renowned futurist, and award-winning CEO, on the economic impact of COVID-19 and how we can pivot to have a "resilient future". The event will be held virtually this year and it is free to all attendees. To register, go to economicforum.eventbrite.com.
I look forward to seeing you all virtually tomorrow for a productive discussion about the economy and how we can work together to build a better future for Colorado Springs.
Warmest Regards,

Karen S. Markel, Ph.D.,
Dean, UCCS College of Business
[ College of Business Home ]