Semester in Review - Spring 2021
Wednesday, June 30, 2021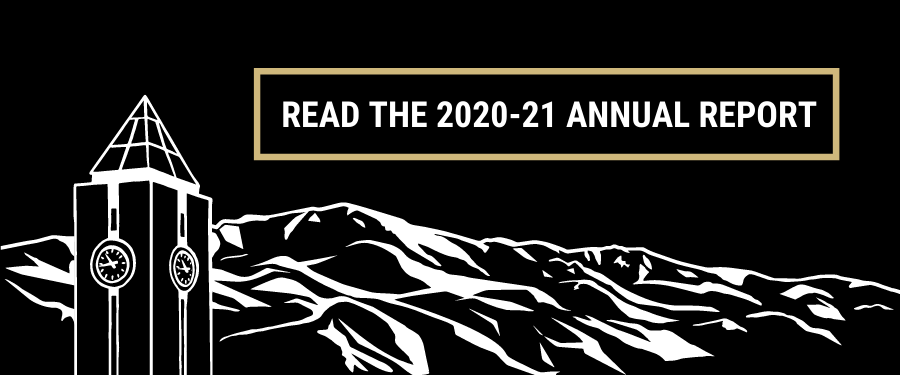 Dear Friends and Colleagues,
The 2020-21 academic year is a story of resiliency. This year brought its own unique challenges, but it also brought many reasons to celebrate. The contributions made this past year extend well beyond the classroom and will shape the future of our business school. I am proud to share the accomplishments of our students, faculty, and staff within the pages of this report.
One of our primary objectives in 2021 was to evaluate and revise our mission statement and values, which marks the beginning of our strategic planning process. Together, as a community of students, alumni, faculty, staff, and business partners, we identified a statement that encompasses our shared vision for the future. Three core values emerged from our discussions, and you will see them reflected throughout this report. We strive to encourage lifelong learning and academic discovery, to serve as a catalyst for community development and partnership, and to emphasize ethical decision-making and societal impact through intentional programming and research. These values inform the direction of our business school, and they are the shared beliefs by which we serve our campus and community.
With so many business programs available in the U.S., we are incredibly proud to receive national recognition as a top business school. Our recent rankings include #11 Best Online Bachelor's in Business, #88 Best Online MBA, #54 Best Online MBA Program for Veterans, and #89 Best Part-Time MBA Program by US News & World Report. As a university, we also placed our third consecutive year as a Top 10 Military Friendly School by Military Friendly.
We believe in developing future-oriented business programs that meet the needs of today's industries. Cybersecurity is an essential field in today's business climate; cybercrime has increased exponentially, and organizations need more cybersecurity professionals than are currently in the market. To address the cybersecurity shortage, we developed academic offerings to support students at every phase of their professional journey. In the coming pages, you will learn about our grant-funded programs, the Colorado Cybersecurity Apprenticeship Program and the NSA Cybersecurity Faculty Development Program, as well as our cybersecurity management specializations at the undergraduate, graduate, and doctoral levels.
Part of our success as a college is the ability to provide real career outcomes for students. The R.O.A.R. Program makes this mission a reality. R.O.A.R., an acronym for Relationships, Opportunity, Acumen, and Readiness, is a mandatory career curriculum that is designed to prepare students for a seamless transition from college to career. We graduated our first cohort from the R.O.A.R. Program in Fall 2020.
These programs would not be possible without the support of our community and partners. When businesses were forced to close their doors during the pandemic, our community came together to help companies get back on their feet. The College of Business offered educational resources, business insights, and virtual one-on-one meetings for businesses in the region. The 24th Annual UCCS Economic Forum combined with the Pikes Peak State of Small Business for a timely and informative discussion about the economic impact of COVID-19 in a free virtual event.
Central to our business curriculum is an emphasis on principle-based ethical decision-making and conduct. We believe that the best leaders are the ones that utilize business practices through an ethical lens, leaving the world a better place than how they found it. The College of Business is proud to house the Daniels Fund Ethics Initiative Collegiate Program at UCCS College of Business (DFEI Collegiate Program), which serves as a resource for students, educators, and the business community. Our Office of Executive Education recently partnered with the DFEI Collegiate Program to incorporate ethical leadership into the Mini-MBA program, which you will read about on page eight.
This report is made possible by the incredible students, faculty, staff, alumni, donors, and partners that understand and live our mission every day. I thank you for your support. I look forward to working together in the next academic year to further our programs, strengthen ties with the business community, and advance academic discovery in the Pikes Peak Region and beyond.
Warmest Regards,

Karen S. Markel, Ph.D.,
Dean and Professor, UCCS College of Business
[ READ THE 2021 ANNUAL REPORT ]