Nagasu heads to Olympics as UCCS readies for Winter Games
Wednesday, January 31, 2018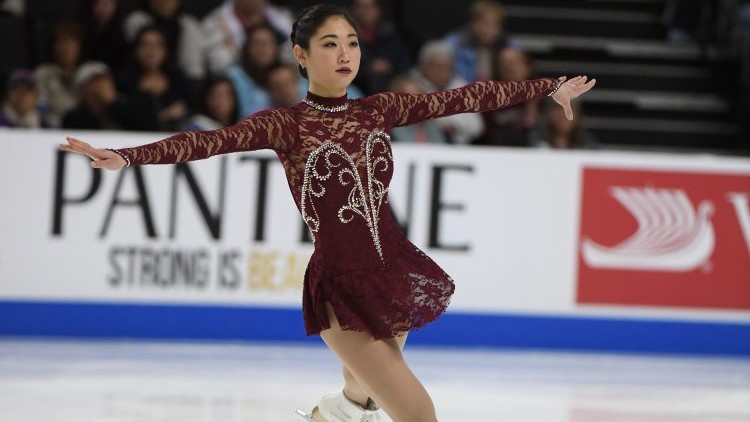 Mirai Nagasu will take a break from her courses in international business this semester to represent the United States in the ladies singles and team events for figure skating at the 2018 Winter Olympic Games in PyeongChang, South Korea. She is making her second appearance at the Olympics after a fourth-place finish in the 2010 games in Vancouver, British Columbia.
She will compete in the ladies free skate portion of the team event at 6 p.m. MST Feb. 11. It will be among the final series of events before medals are awarded later that evening. It will be broadcast live on NBC.
The ladies singles event combines the scores from the short program and free skate. Competition in the short program begins at 6 p.m. Feb. 20 and the free skate follows two days later at 6 p.m. Feb. 22. The medal presentation will take place immediately after the free skate competition. Both days are scheduled for live coverage on NBC and NBC Sports Network.
Nagasu qualified after a runner-up performance at the 2018 U.S. National Championships in San Jose, California. She was the 2008 national champion and 2007 national junior champion. Nagasu is one of two American women in history to land a triple Axel in international competition.
South Korea Olympic Games Panel Discussion
With the Winter Olympic Games taking place 30 years after the 1988 Seoul, South Korea, Summer Olympics, UCCS groups will host the panel discussion
"Up Close and Personal: South Korea as host of the 2018 Winter Olympic Games." The UCCS Global Intercultural Research Center, the Daniels Fund Ethics Initiative and the UCCS Center for Critical Sport Studies will host the panel at 5 p.m. Feb. 7 in University Center 116.
The event is free. Attendees are encouraged to RSVP here.
The panel will feature Sally Roberts, a two-time wrestling bronze medalist at the world championships and...
[ Continue Reading UCCS Communique ]