Sabati talks value of internships, starting podcast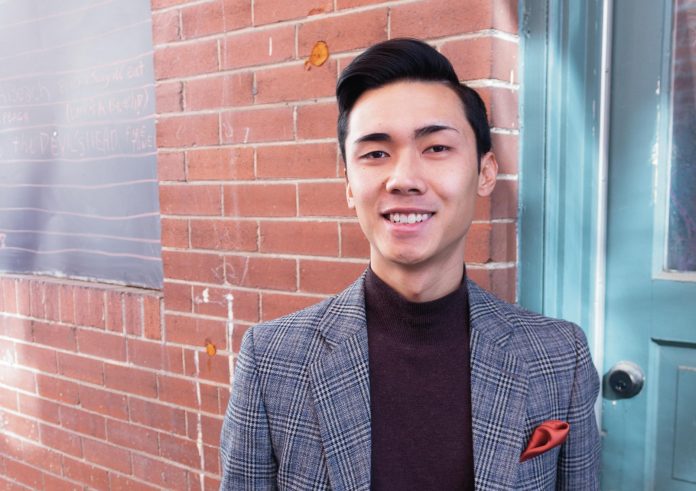 Friday, February 22, 2019
Brent Sabati is banking on a different type of tool to get his name out in the business community. The 23-year-old financial advisor for Mutual of Omaha recently started Attitude Check: The Business Leadership Podcast.
"It's with a friend from college and what we are trying to do is interview different business people — leaders," Sabati said. "The podcast is about helping us and other young professionals grow and take opportunities."
Sabati was born and raised in Hawaii, where his stepfather served in the Navy as an air traffic controller.
"I consider that home, but we moved around a lot because of the military," he said. "I also always knew that I couldn't stay there forever because I have the travel bug and love experiencing new places and cultures."
Before moving to Colorado Springs, Sabati lived briefly on the West Coast in San Diego and then in Las Vegas.
"California is too expensive, and with Vegas, I'm not really into gambling or the desert," he said. "I came to visit the Springs, saw Pikes Peak and was like, 'Yep, this is it — this is where I'm going to live.'"
Sabati received his bachelor's degree in marketing from UCCS in 2017.
He spoke this week with the Business Journal about how internships with a small brokerage and Northwestern Mutual helped him succeed after college, and why he started the podcast.
What does your job entail?
I work as a financial advisor for Mutual of Omaha. It's a client-facing role where I basically get to sit down with different people, businesses and associations, and see how I can help them, whether that's building wealth for their future or just taking care of simpler issues, like budgeting, that a lot of people have day-to-day problems with. It's an exciting job for me; I get to meet a bunch of interesting people. And the work-life balance is great. You really have the freedom to kind of set your own schedule and target the areas that you want to. It's a great fit for me.
What made you want to get into finance?
When I was in college, I got an internship — this was back in Hawaii before I moved to California. It was with a place called Milestone Coach. At the time, I was just looking for any internship. Honestly, when I went in for the interview, I didn't even really understand what they did, but it ended up being an insurance brokerage. It was kind of a local small mom-and-pop shop brokerage and I was working as a marketing assistant for them doing cold calls to businesses. At first, I hated it. I get anxiety and having to call all those people and ask to set appointments was difficult for me. But it was getting exposed to that and insurance and those lines of products that got me interested in brokerage and finance. Then I started playing with the stock market for my own personal accounts and once I get into something, I do like a ton of research and get really invested. No pun intended.
Why should someone consider using a financial advisor?
People are going to be kicking and screaming for me saying this, but not everyone needs a financial advisor. There's a certain population, obviously, that our services can really help, but I think if you're considering it, then you should look at a couple things before choosing a financial advisor — because they really are a partner when it comes to investing your money. They help you stay accountable to any kind of financial plan you have; they let you know if you need to have a better budget. They help you find money for a down payment on a home, or if you just need some help managing your retirement. If you need guidance on those sorts of things and you don't feel comfortable doing it by yourself, that's where I think a financial advisor can really come in handy.
There's a lot of information out there that you can access by yourself, and there's a lot of different tools via the internet that make investing in individual pieces of a financial plan easier for the everyday person who's not in the industry. But as far as getting all those pieces and putting them together — a financial advisor can really help with that. It really just depends on what a person is trying to achieve financially.
Is the finance industry accessible to young professionals?
I think so. That's one of the reasons why I decided to go with finance. At our local Mutual of Omaha office, it's been great being able to work with kind of that smaller technical group of advisors, and so far, they've been nothing but helpful and supportive and basically offer to do anything I need to help myself succeed. It's all, 'Let us know, and we'll see how we can help out,' whether that's coming out to meet clients or help on different areas of their expertise.
You had two different internships in college. How have they benefited you?
The one while I was still in Hawaii really helped me come out of my shell, and then, with the Northwestern Mutual internship, when I heard about that I jumped at the chance to do something in finance. I had a great experience there. It was really interesting to see the different dynamic of companies and how they operate. And the Northwestern internship taught me a lot and helped introduce me to a lot of great people, both in Colorado Springs, as well as within that office, too. Anyone who's in college, I would recommend doing internships or any kind of experience like that as soon as possible. Don't wait until your junior or senior year. If I could go back and do it again, I'd be applying for internships first thing my freshman year.
What's a challenge you face in your job?
I would say the biggest challenge is probably just being able to get out there. It's a very client-facing job, and the way we make money is to have clients. It can be hard as a younger person to go out and show your value to those older business owners with higher net worth demographics. Then I also want to help the people around me, like my friends and college students, be able to grow financially. But when you're young and in college, you're not really thinking or planning for the future yet.
How important is networking to your job?
Networking is huge. I think if you ask any young professional, networking is probably helping them achieve what they are trying to do in some way or form. I'm an introvert at heart but getting out and meeting new people has really helped me. It's important to challenge yourself and get over that anxiety of going into a room full of people because at the very least you're going to make some friends and, if you're lucky, a few business connections.
Talk about your podcast, Attitude Check.
I co-host it with a friend from college. We like to joke around that we have a scrub setup with just a microphone and a laptop. With the podcast, it's been a fun experience. It's been a good way to talk to interesting business people that normally it'd be kind of hard to. We're really just saying to them, 'Hey, can I have a conversation with you?' It kind of gives us an excuse to reach out to more people doing good things in the community. We interview different business professionals about their jobs and advice. … Our thought is that mentorship played a big role in our lives, so we want to talk with people who have experience in leadership positions — in business positions — and what advice would they give to people.
Are you involved in anything to benefit the community?
More recently, I've been getting into kind of the nonprofit sector. There are a few different organizations that focus around Asian culture that I'm involved with that are more based out of Denver. I've been working with them, whether that's helping do workshops or just volunteering time to do events and things like that. It was kind of an eye-opener to me coming here from Hawaii, where the majority of the demographic are different types of Asian people. It's been great getting involved with those organizations because it's a good way to make friends. I've also recently started working with The Home Front Cares. I love their mission. It really kind of fits with what I believe in and any way I can help veterans, I'm glad to do it.
[ Sabati talks value of internships, starting podcast ]