UCCS, partners to launch downtown extension
Thursday, January 17, 2019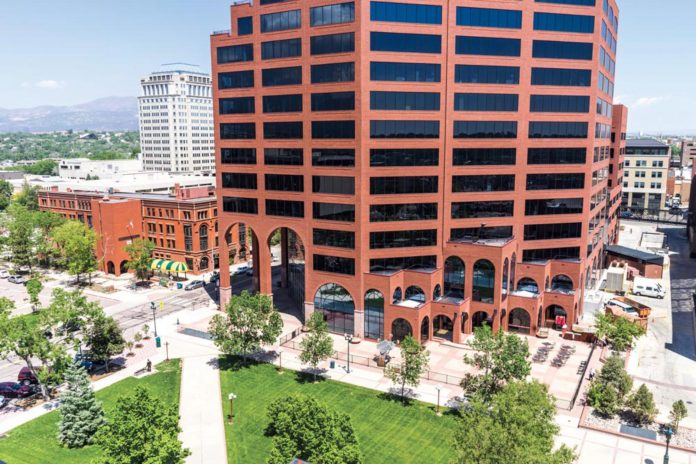 It has always been a goal of the UCCS College of Business not only to train future business leaders but to aid working professionals in developing the skills to help their businesses and careers prosper.
Now the university is making it easier for business professionals to access the courses that can benefit them, their companies and the community by establishing a new location in downtown Colorado Springs.
UCCS Downtown will open this fall in a two-story annex adjacent to the Alamo Corporate Center at 102 S. Tejon St. The university will occupy a ground-floor space of about 3,300 square feet in the building, owned by Nor'wood Development Group. The Downtown Partnership and the city of Colorado Springs are partners in the project.
"We are going where our students, alumni and community partners are," UCCS Chancellor Venkat Reddy stated in a news release. "This will allow employees to continue their professional growth and employers to further develop their workforce, while creating new opportunities for our students, alumni and faculty to interact with our community."
The Mini-MBA program, offered by the College of Business, will move from the main campus to UCCS Downtown in September.
In addition, the downtown site will offer the Teacher Leader Academy through the College of Education, an intensive program for teachers; and student leadership development programs including UCCSlead and the Chancellor's Leadership Class.
UCCS Downtown will include a welcome and recruitment center, a box office for purchasing tickets to arts and athletic events, and a meeting location for alumni events and community boards.
Flexible learning space
The space, which previously housed a Chick-fil-A outlet and a professional office, is being reconfigured for maximum flexibility, said Jeff Finn, Nor'wood Development Group vice president, who is helping spearhead the renovations.
UCCS Downtown initially will include a classroom that will accommodate 30 to 36 students, a smaller, 16-seat seminar room and informal, group learning areas with chairs, couches and four-top tables. The space can be configured to host community gatherings where food can be served buffet style.
"The big difference between this space and most academic spaces is the idea of co-working and co-learning," Finn said. "UCCS realizes that the students they are preparing to go out into the workforce want a more collaborative learning environment."
As the Nor'wood principal who focuses on the company's downtown efforts, "we get to go to cities across the country and see thriving downtowns," Finn said. "Having a piece of the state's higher education system downtown is a pretty big win. UCCS is planting a seed that could grow into something that really becomes an educational and economic engine for our community."
Now is the perfect time for UCCS to establish a presence downtown, said Eric M. Olson, interim dean of the UCCS College of Business.
"The expansion of downtown is going to be exponential in the next five years," with the U.S. Olympic Museum and Hall of Fame, new high-rise apartments and development reaching eastward, Olson said.
Mini-MBA course
The Mini-MBA program, which is enrolling students now, offers business professionals the opportunity to learn broad business concepts, skills and essentials in a short time frame while balancing their work and personal commitments.
Participants in the non-degree, 13-week program learn about current business theory, research and best practices in an interactive environment and apply their knowledge and skills in an ongoing capstone project.
The 2018 project involves choosing and implementing a business strategy that will have a direct business impact of $75,000. Participants will have 75 days from the last class session to implement the capstone project within their organizations.
After the 75-day period, a final program event will take place, during which each participant will give a presentation on the project and resulting impact. Participants who successfully complete the course and the capstone project will receive a Certificate of Completion and will earn 3.9 CEUs.
While the Mini-MBA program does not count toward a degree, it's expected that some participants will choose to continue their education and apply to the UCCS MBA program. For those who do so within five years of completing the Mini-MBA, the College of Business will waive the requirement to take the GRE/GMAT.
Olson said the Mini-MBA program was offered for the first time last year and drew students including general managers, department managers, small business owners, sales professionals and military members transitioning into civilian careers.
"We were expecting a handful of students, and we had 16 go through the program," Olson said. "Now four of those students are going for a full MBA."
This year, the Mini-MBA course will meet from 5:30-8:30 p.m. Tuesdays starting Sept. 11 at the downtown location. It runs through Dec. 11.
Since the program offers a tangible benefit to companies from which the students are drawn, many employers agree to fund the $2,900 cost of early enrollment, which jumps to $3,600 after Aug. 16.
Growing downtown presence
The idea for a downtown extension of UCCS grew out of a group of campus and community leaders called Regional Connect that meets once a month to find ways to benefit the community and university.
About a year ago, the group brainstormed potential initiatives the university and community could do together.
"A downtown presence rose to the top of all the suggestions," said Stephannie Fortune, executive director of Regional Connect. "A few months later, I called together some notable people who have a passion for downtown and asked them to join us."
Among those who attended were Susan Edmondson, president and CEO of the Downtown Partnership; Bob Cope, the city of Colorado Springs' economic development manager; and Chris Jenkins, president of Nor'wood Development Group.
A few days later, Fortune said, Jenkins called her and proposed partnering with the university on the downtown project. The Downtown Partnership and the city also became enthusiastic partners and supporters of the project.
"This is the starting point for what will be a bigger presence downtown, where UCCS can help build the community beyond the campus," Olson said.
In the 2019 academic year, UCCS Downtown will begin offering credit-bearing classes in areas including public safety, criminal justice and cybersecurity.
"We see this as a real gathering place for the community," Fortune said. "We want to get students together with alumni and bring faculty down to do a speaker series to really highlight their expertise."
In the future, the university intends to expand the downtown campus in the Tejon Street building or elsewhere.
"Our hope is that we could be transformative to downtown," Fortune said.
"This new location will be an excellent opportunity for UCCS to become fully integrated into downtown Colorado Springs and to see what the future holds for an extended downtown presence," Reddy said. "Residents will be able to use the location to learn more about UCCS and the classes offered, meet our faculty and students, and discover how they can take advantage of lifelong learning opportunities."
[ Continue Reading The Colorado Springs Business Journal ]