Brad Cooper: Better Than Before
Monday, February 18, 2019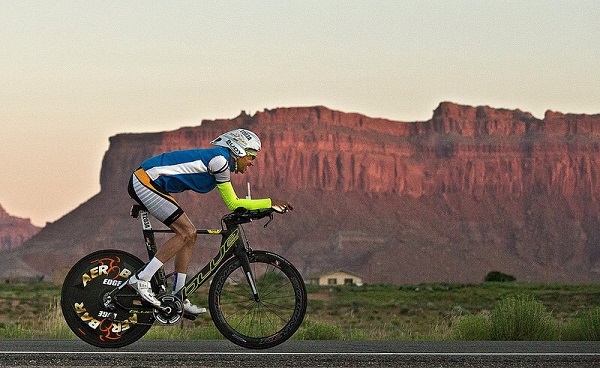 A lifelong learner, Brad Cooper lives by the mantra "better than yesterday," both in his own life and in his quest to improve the lives of countless individuals worldwide.
Cooper's journey to change lives started in 1991 in Colorado Springs as a physical therapist. But, he knew his reach and impact could be greater. Cooper recognized the value of a degree from UCCS and enrolled in the MBA program.
With the help of UCCS professors, he created a program tailored to his goals, compounding on his knowledge of physical therapy. Cooper took one course at a time over the course of two years while balancing work commitments. In his third year, he and his family moved north. Cooper worked in Denver and commuted to Colorado Springs, which he quickly found was not sustainable for his work and life commitments.
"I was managing (physical therapy) clinics, treating patients," Cooper said. "I explained this to my professors (at UCCS) and they said, 'Oh, we can help you!'"
Professors at UCCS utilized the strength of the University of Colorado System, customizing a program for Cooper that allowed him to take classes both at the CU Denver and Colorado Springs campuses.
The helping hand resonated with Cooper.
"My whole goal is trying to help individuals improve their lives in terms of what is most important to them," Cooper said. "UCCS did very well in helping me after I realized an MBA would be a valuable tool. They made it possible."
"They worked around my schedule, let me attend classes in the evening, and helped me continue on my path in Denver. They ultimately helped me with all the resources they have."
Degree in hand, Cooper continued on his mission of helping others. He served as the Vice President of Operations for Healthsouth, managing operations for more than 40 outpatient facilities across the southwest.
In an unexpected turn of events, Cooper was laid off in 2007 when his division was sold. This abrupt change opened the door to a new opportunity to impact the lives of others through improving the lives and wellbeing of employees nationwide. 28 days later, he and his wife Suzanna launched US Corporate Wellness, Inc.
US Corporate Wellness helps organizations expand the conversation and traditional emphasis on "food and fitness" to broader health and wellbeing. Cooper's company provides both the core strategy for organizations and the personalized coaching, tools and resources for individual employees within those organizations looking to create lasting – and meaningful – progress in terms of their health and wellness.
In 2011, the Coopers also launched the Catalyst Coaching Institute, which has become one of the national leaders in certifying individuals across the country as wellness coaches to sit for the (relatively new) national board exam. In 2018, they also created the Catalyst Health and Wellness podcast as the first podcast to help coaches grow their coaching skills, business acumen and lives. Why include the business training? Again – it started at UCCS.
"One of the most notable things the MBA provided was learning how to ask better questions," Cooper noted. "I didn't learn to be a great marketer, but I did learn how to understand the tools and techniques of marketing. Similarly, I didn't learn to be an accountant, but it taught me how to ask the accountants the right questions."
Cooper said the degree also gave him credibility in his field, allowing him to achieve success both as a leader and a visionary.
"Life often involves tiebreakers, and one tiebreaker is education. How do you tell who is most qualified? If you're looking at two different people with the same background and experience, then the person with the better education typically is seen as bringing more to the table."
Education is key, but it must be accompanied by work ethic to drive success, Cooper cautioned. He didn't just work hard to earn his degree – it's been a lifelong pattern. Throughout the MBA evening courses at UCCS, Cooper became familiar with 13-hour days, and that didn't change as his professional pursuits expanded. At 52, his typical day still revolves around his role as CEO of US Corporate Wellness and the growth of the Catalyst Coaching Institute. In addition, he is involved with the development of the Aerobar Edge (a triathlon training device for which he holds two US patents), training as a competitive Masters athlete, and completing his Ph.D. dissertation on the concept of functional mental toughness.
That work ethic ripples across his professional, family and athletic life, and it shows.
Cooper is the author of five books, a national columnist and keynote speaker. In his athletic pursuits, he was identified by several publications as "The World's Fittest CEO" for becoming the first person to complete the "endurance trifecta": qualifying for the Boston Marathon, the Hawaii Ironman Triathlon World Championship and winning the "Race Across America" all within five months and just six weeks after a freak bike wreck resulted in 8 fractures to the pelvis, ribs and clavicle.
Although he's been acknowledged for his successes, he said failure is one of life's best teaching tools.
"If you look back, I've failed time after time, after time, after time. You can find business cards and company ideas of the seven times I've failed and crashed and burned," Cooper said. "But you keep going back, keep going back, keep going back. It might not work the first time."
The energy to accept failure and push forward comes from the same healthy lifestyle Cooper attempts to help others achieve.
"When you eat well, when you exercise consistently, when you get good sleep, you have more to give. When all you've got energy for is to get up in the morning, drag yourself through the day and then go to bed, you may make it, but you're not doing as well as you could be."
Fueled by his encouragement to others to pursue 'better than yesterday,' Cooper hopes he's not done having opportunities to help others. Whether through opportunities with current clients, a new business concept or a speaking engagement, he wakes up each morning looking for open doors to make a positive difference.
For those looking to achieve similar success, Cooper's advice is most often simple, yet wise.
"Everyone wants to understand how to connect the dots, but that's not in our hands. Our role is to continue creating the dots by moving forward with purpose, even when the future isn't crystal clear. If you stay focused on creating those dots rather than fully understanding exactly how they're connected, you'll usually be pleasantly surprised by how they eventually connect in positive ways."
[ Top ]