The Business Casual - August 2020
Wednesday, August 26, 2020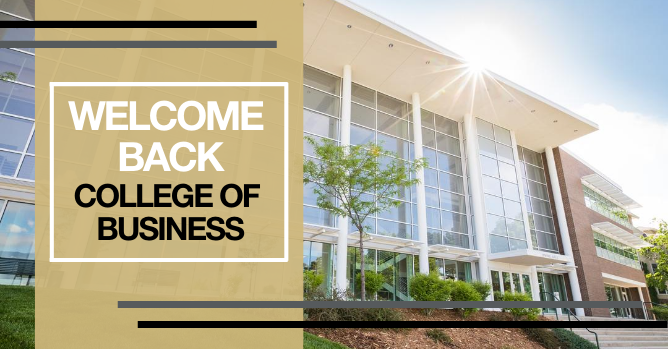 College of Business Students,
Welcome to a new semester in the UCCS College of Business! This is the first week of classes and we are thrilled to see our new and returning students back on campus. Your college experience is the perfect time to take chances, step outside of your comfort zone and immerse yourself in a wide range of activities and events. As we commence on a new academic year, I encourage you to take advantage of the upcoming opportunities available in the College of Business.
Virtual Career Networking Night is on September 16th, an opportunity to network with employers and discuss potential career and internship positions. The entire event will take place virtually through Handshake. You will need to register through Handshake to book networking sessions with employers. Learn more and register here.
The Virtual Ethics Case Competition will be held on October 17th. Register by September 25th to showcase your principle-based ethical decision-making skills to a panel of business professionals for a chance to win $1,000. This event is sponsored by the Daniels Fund Ethics Initiative Collegiate Program at UCCS College of Business and it is a great opportunity to apply your business knowledge and critical thinking skills in a friendly competition. Learn more and register here.
We know this semester comes with trepidation for the unknown - these are challenging times for our Mountain Lion community. Our College of Business faculty and staff have worked tirelessly this summer to make sure you can have a safe and supportive experience this fall. If you need help this semester, please do not hesitate to reach out. We are committed to your success and we have resources available to assist your academic and professional development this fall. Please visit our College of Business Support Hub to learn more about how we can support you.
I have only been on campus for a few months, but it is clear that our community is special. We are strong, resilient, and compassionate - we will take care of each other during these trying times.
To quote Chancellor Reddy's statement earlier this week:
"Mountain Lions are a special group of individuals. Our students are caring, committed to their community and laser-focused on the future. Our faculty and staff are dedicated to the well being of our students and the success of our university. I know you will continue to do UCCS proud this semester."
I wish you a wonderful and safe fall semester. Remember to wear your mask, wash your hands, and Protect The Pride.
Warmest regards,

Karen S. Markel, Ph.D.,
Dean, UCCS College of Business
[ College of Business Home ]