The Business Casual - December 2020
Thursday, December 17, 2020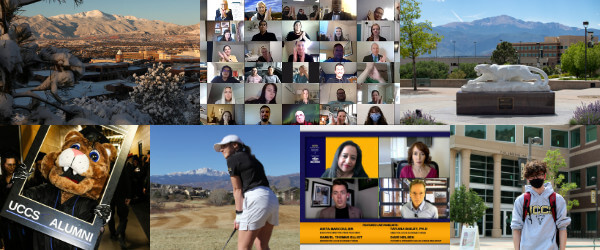 College of Business Students,  
As we close on the year and prepare to celebrate the Class of 2020, we reflect on an eventful, and oftentimes unconventional, year at UCCS. I've had the opportunity to witness your incredible efforts as you weathered another semester of change and transition. This semester came with its challenges, but it also provided new opportunities.
Our remote environments helped us stay connected in new and innovative ways. We welcomed alumni and friends from across the U.S. to join us for annual events and competitions, class discussions and meetings. Many of you attended your classes remotely from across the country. Several traditionally in-person events were able to reach broader audiences through virtual platforms and we felt the scope of impact on a much larger scale. 
What we missed most of all this past year was the connection to our peers. But what we lacked in face-to-face interaction, we made up for in compassion. The Mountain Lion community came together this semester to support one another during difficult times. You Protected the Pride and found new ways to study and work together remotely.
You also demonstrated your ability to think critically and ethically. In addition to the Ethics Fellows and Ethics Champions programs, the Daniels Fund Ethics Initiative Collegiate Program launched the Student Ethics Ambassadors Program. Now, you are now able to pursue principle-based ethics projects with a paired Ethics Fellow to engage in ethics opportunities, gain program-based work experience and develop valuable leadership skills. Several of you competed in the Virtual Ethics Case Competition and effectively solved an ethical dilemma and presented your findings to a panel of business professionals.
The Class of 2020 includes the first cohort of students to pass successfully through the R.O.A.R. Program. Our graduating seniors are now equipped with the education, skills, training and mentorship to successfully transition into the workforce after graduation. We are rooting for you as you take the next step in your professional careers.
Tomorrow, we will participate in a virtual celebration to recognize the Class of 2020. Earning a degree is a tremendous achievement and we are so proud of our business graduates for their resiliency as they completed their final semester at UCCS. While we would have preferred to celebrate your accomplishments in person, we are grateful for the opportunity to recognize you virtually. To watch Virtual Commencement, please visit commencement.uccs.edu. The virtual ceremony will begin on December 18th at 1pm on YouTube Live, followed by our college-specific ceremony.
It has been an honor to serve my first full academic semester as your dean and I thank you for your hard work these past few months. I hope you all enjoy a much-needed winter break to rest and recharge before the next semester. If you haven't already, I encourage you to enroll in your courses for Spring 2021. January is around the corner and our classes are filling up quickly. If you have questions about the enrollment process, please contact your Academic Advisor at advising@uccs.edu. Our business-specific advisors are available to answer any questions you might have about the spring semester.
Have a wonderful and safe holiday season! 
Warmest Regards,

Karen S. Markel, Ph.D.,
Dean, UCCS College of Business
[ College of Business Home ]