UCCS EDBA-Cyber Program Earns Membership to Executive Doctoral Business Administration Council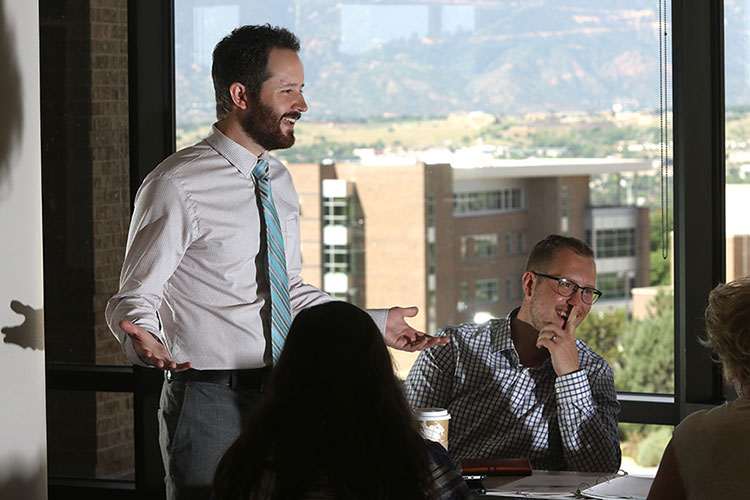 Wednesday, July 28, 2021
The University of Colorado Colorado Springs Executive Doctor of Business Administration in Cybersecurity Management (EDBA-Cyber) program recently achieved Associate Academic Member status with the Executive Doctor of Business Administration Council (EDBAC).
The EDBAC is a global organization that is committed to fostering excellence in executive doctoral degree programs. Membership is based on EDBAC standards of quality to help professionals deliver and participate in innovative and relevant executive doctoral education. To qualify as an Associate Academic Member, degree plans must be residency-based doctoral programs taught by research active faculty, be at least three years in length, and require a successful defense of a dissertation. Admission must be directed toward employed individuals who have already obtained an MBA or equivalent degree, and who have more than 10 years of professional experience. EDBAC acts as a forum and a resource for students, alumni, faculty and as administers of planned and active executive doctoral programs, while providing networking and educational opportunities.
"Membership to the EDBAC is indicative of a high quality executive doctoral program," said Dr. Karen Markel, Dean of the UCCS College of Business. "We are delighted to have our EDBA-Cyber program recognized as an EDBAC member school, and we look forward to working with the Council to maintain best practices and thought leadership in doctoral cybersecurity management education ."
The EDBA-Cyber at UCCS is a unique terminal degree designed to develop scholar-practitioners who will be skilled in practice-focused research in cybersecurity. The EDBA-Cyber program is designed to equip students with the ability to develop skills for cybersecurity scholarship and research competency, analyze and communicate issues impacting cybersecurity, demonstrate knowledge of information security research and apply current research to address complex problems of cybersecurity practice. The program is one of two in the United States focused on information security, and the only in the western United States. It is one of 55 executive doctoral-level programs, general or cybersecurity, in the world.
"Our program is purposefully designed for busy executives to pursue cybersecurity doctoral studies without impacting work commitments," said Dr. Gurvirender Tejay, the EDBA Faculty Director. "The students will learn cutting-edge cybersecurity management research along with breadth of business administration topics enabling them to be effective Cybersecurity Leaders for their organizations."
The EDBA-Cyber is a three-and-a-half-year, part-time program. The deadline to apply for the Fall 2022 cohort is Nov. 1, 2021. For more information about the program, admissions, curriculum and tuition, please visit the EDBA-Cyber website.
About the UCCS College of Business
The UCCS College of Business was established in 1965 and has more than 1,300 undergraduates and 350 MBA students. The College of Business and Administration awards the Bachelor of Science in Business and Bachelor of Innovation degrees. The Graduate School of Business Administration awards the Master of Business Administration, Master of Science in Accounting and Executive Doctor of Business Administration degrees. More than 10,000 alumni of the College of Business live and work around the world. For more information, visit uccs.edu/business.
The University of Colorado Colorado Springs offers 53 bachelor's, 24 master's and eight doctoral degree programs. UCCS enrolls about 12,000 students on campus annually. For more information, visit uccs.edu.
Tags: News