Dwire Inquirer - January 2021
Friday, January 29, 2021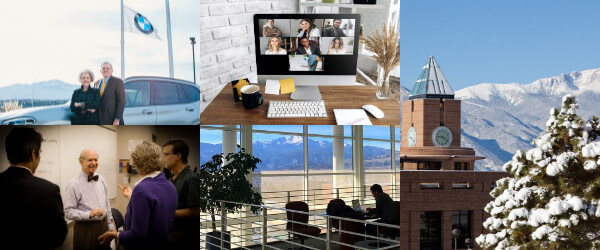 Dear Friends of the College of Business,
It is a new year and a new semester in the College of Business! As we turn the calendar to 2021, it carries with it the familiar sense of possibility, growth and development that a new year brings. Like we did in 2020, we will support each other during difficult times, remain steadfast in our commitment to student success and look for the promise of on-campus experiences in the upcoming year. Spring 2021 is shaping up to be a busy and exciting semester, and I hope you can join us for many of our upcoming events.
The Spring 2021 Virtual Career Networking Night is on March 2nd, which is routinely one of our biggest networking events of the semester. You will need to register through Handshake to attend the event as either a student, alumni or organization. Learn more about the event here.
The Daniels Fund Ethics Initiative Collegiate Program is currently seeking undergraduate and graduate participants for the Daniels Fund Ethics Initiative Essay Competition. Students will analyze a business case and make recommendations using principle-based ethics. If you are interested in serving as a judge for the Essay Competition, please contact Dr. Tracy Gonzalez-Padron at tgonzale@uccs.edu.
2021 is a special year for the College of Business as we recognize Dr. Donald D. Warrick for 50 years at UCCS. Dr. Warrick is an award-winning educator, consultant, and author, and he has made a lasting impact on the entire UCCS community. We are very proud to recognize Dr. Warrick for his lifetime of achievements at UCCS. We look forward to commemorating this milestone with several events in Spring and Summer 2021. Please look for virtual event invitations in the near future.
We are also proud to honor Phil and Ann Winslow of Winslow BMW of Colorado Springs at our 2021 Lifetime Entrepreneurship Award celebration. Phil and Ann are both outstanding business leaders, devoted philanthropists, and they have been integral to the automobile industry in Colorado Springs since 1961. A small gesture to honor a lifetime of service, we are proud to recognize the Winslows with this award. As with most major events in 2021, we are determining the best platform to recognize our honorees. You will hear additional information on the date, time, and delivery very soon. In the meantime, I encourage you to learn more about the honorees and the LEA award at www.uccs.edu/LEA.
I wish you all a happy and prosperous 2021.
Warmest Regards,

Karen S. Markel, Ph.D.,
Dean and Professor, UCCS College of Business
[ College of Business Home ]