The Business Casual - October 2021
Friday, October 29, 2021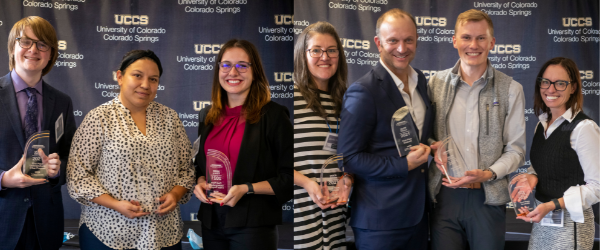 College of Business Students,  
What would you do if you were faced with unfair practices in a business environment? Do you feel confident in your ability to rise above pressures and act with integrity? How do you determine right from wrong?
Ethical dilemmas are a reality in business practices - it is inevitable that you will face challenging situations in your careers. That is why the College of Business is committed to principle-based ethics education.
We are proud to house the Daniels Fund Ethics Initiative (DFEI) Collegiate Program at UCCS, which is a resource for ethics education that serves each of you during your time in college. Through DFEI, you can face real-life ethical dilemmas in your classes, participate in case competitions, and learn from professionals who have experienced ethics firsthand.
There are numerous opportunities to engage in ethics at UCCS. I encourage you to learn more about our existing and upcoming programs with DFEI and start building your ethical decision-making skills today.
The DFEI Collegiate Program is now accepting applications for the 2022 Student Ethics Ambassadors Program. Select undergraduate and graduate applicants will be paired with a DFEI Collegiate Program Faculty Fellow to help create new ethics programs, conferences, curriculum and events, which will be applied at UCCS and throughout southern Colorado.
The Student Ambassador program is an excellent opportunity to engage with ethics on a deeper level, build your resume, and network with experienced faculty, staff, alumni, and community professionals. Applications are open until December 1st. To apply, go to business.uccs.edu/resources/ethics/students/ethics-ambassadors.
I would also like to congratulate the 2021 Case Competition participants. Each of you demonstrated a strong understanding of principle-based ethics and presented excellent case recommendations to the judging panel. To learn more about the 2021 Case Competition and see the case winners, click here. 
The Student Center for Public Trust (StudentCPT) at UCCS is part of a national network of college students who demonstrate a commitment to ethical leadership. The UCCS chapter provides students from all majors with opportunities to participate in training sessions, conferences, community service, and business ethics competitions. Learn about the StudentCPT and other business clubs at business.uccs.edu/resources/clubs-and-organizations.
Businesses need more students like you who are thinking critically about ethical dilemmas and prioritizing ethics in their business education. Through programs like the Daniels Fund Ethics Initiative, you will be prepared to make tough decisions in the moments where they matter most.  
Warmest Regards,

Karen S. Markel, Ph.D.,
Dean, UCCS College of Business
[ College of Business Home ]