The Business Casual - September 2021
Thursday, September 30, 2021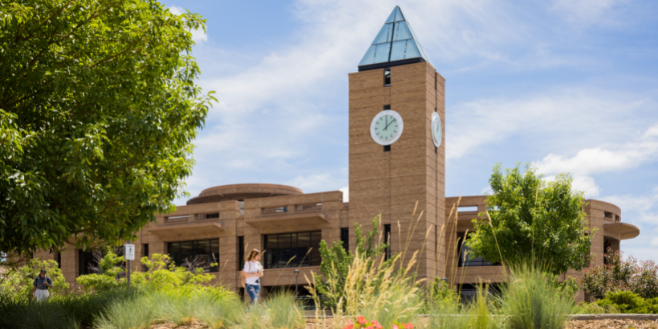 College of Business Students,  
I hope your fall classes are off to a great start! September has proved to be a very busy month in the College of Business and we have more exciting events and opportunities happening in October.
This month, we hosted our bi-annual Career Networking Night. A record 224 students met with over 77 employers from around the state offering networking, internships, and job opportunities. I hope you all made valuable connections with the employers and community members in attendance. Please mark your calendars for Spring Career Networking Night on March 1, 2022.
We continue to celebrate Dr. Don Warrick's 50th year at UCCS. Last week, we hosted the second Warrick Webinar titled, "Committing to Personal Excellence." Over 168 students, alumni, and community members registered to hear insights from Dr. Warrick and celebrate his 50th milestone. In this webinar, Dr. Warrick discussed what committing to excellence means and how you can positively impact those around you. If you missed the webinar and would like to watch the presentation, you can access the recording here.
The College of Business was recently approved to be a University Affiliate Program (UAP) by the Chartered Financial Analyst (CFA) Institute, becoming one of approximately 500 universities globally and 250 in the United States to earn this distinction. The CFA University Affiliate Program is an important indicator of a high-quality and relevant finance education, and we are confident our curriculum will help prepare you for a successful career in the industry. To learn more about our CFA recognition, click here.
In a few short weeks, we will celebrate the 25th Anniversary of the UCCS Economic Forum at its annual event on October 14th from 1:00-4:00 p.m. We look forward to hearing timely presentations from Dr. Tatiana Bailey, Director of the UCCS Economic Forum, and Marci McGregor, Managing Director & Senior Investment Strategist at the Chief Investment Office, Bank of America, on the state and national economies. The event will be held virtually this year and it is free to all attendees. To register, please visit uccseconomicforum.com.
The Business Ethics Case Competition is on October 23rd. Participating students will showcase their principle-based ethical decision-making skills to a panel of business professionals for a chance to win a cash prize. This event is sponsored by the Daniels Fund Ethics Initiative Collegiate Program at UCCS College of Business, and it is a great opportunity to apply your business knowledge and critical thinking skills. Learn more about the event here.
There are numerous ways to get engaged on campus, meet your fellow peers, and participate in some much-needed fun. Visit Mountain Lion Connect to stay up to date on upcoming events happening all over campus. We also have several active clubs in the College of Business including Delta Sigma Pi, Accounting Honor Society, Sport Management Activity Council (S.M.A.C.), the Student Center for Public Trust, and more. Please visit our clubs and organizations webpage for ways to get involved.
I look forward to seeing you at one of our upcoming events in October. Stay diligent in your classes and enjoy the fall semester.
Warmest Regards,

Karen S. Markel, Ph.D.,
Dean, UCCS College of Business
[ College of Business Home ]