Teaching Ethics Across the Curriculum for Faculty at Otero Community College
Tue, 08/14/2018
12:00 PM - 01:00 PM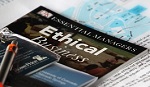 Teaching Ethics across the Curriculum

Description:

The ninth workshop in the SCHEC campus series was held at Otero Community College on August 14th 2018. The workshop 'Using Daniels Fund Ethics Initiative Principle-based Ethics Education across the Curriculum' was about focusing on two ideas on teaching ethics for all curriculum –
faculty confidence in addressing ethics issues in the classroom and experiential learning. To view the complete workshop booklet, click on the image below.