Teaching Ethics Across the Curriculum for Faculty at Trinidad State Junior College
Thu, 01/12/2017
12:00 PM - 12:00 PM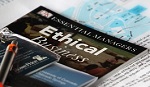 SCHEC Teaching Ethics across the Curriculum
Dr. Tracy Gonzalez-Padron, Director of the Daniels Fund at UCCS began by introducing the Daniels Ethics Initiative Principles and strategies for using the Principles for teaching ethics. This included steps for making ethical decisions, a relational case involving the Principles, instruction on how to use the Principles to assess recommendations, and notes on how to effectively teach ethics in the classroom. This included a Q&A session and an Ethics Case Activity.
Scott Van Ness, Instructor of Operations Management presentation was themed, "Ethics Lab: Recreating the Stress of Ethical Challenges". The presentation began by introducing the guide and exercise for the Ethics Lab. Instructor Van Ness concluded by discussing the application of the lab to the industry and the impact the lab would have on students.
The final part of the workshop, involved a networking session for the presenters and the faculty, and introduced materials and resources that would be important for the development of ethical activities for the Trinidad campus.
 

Trinidad State Junior College Southern Colorado Higher Education Consortium Faculty Ethics Workshop - January 2017

CONTACT INFORMATION :
Elisabeth Moore
Daniels Fund Ethics Initiative Program Manager