COB Connection - May 2021
Friday, May 14, 2021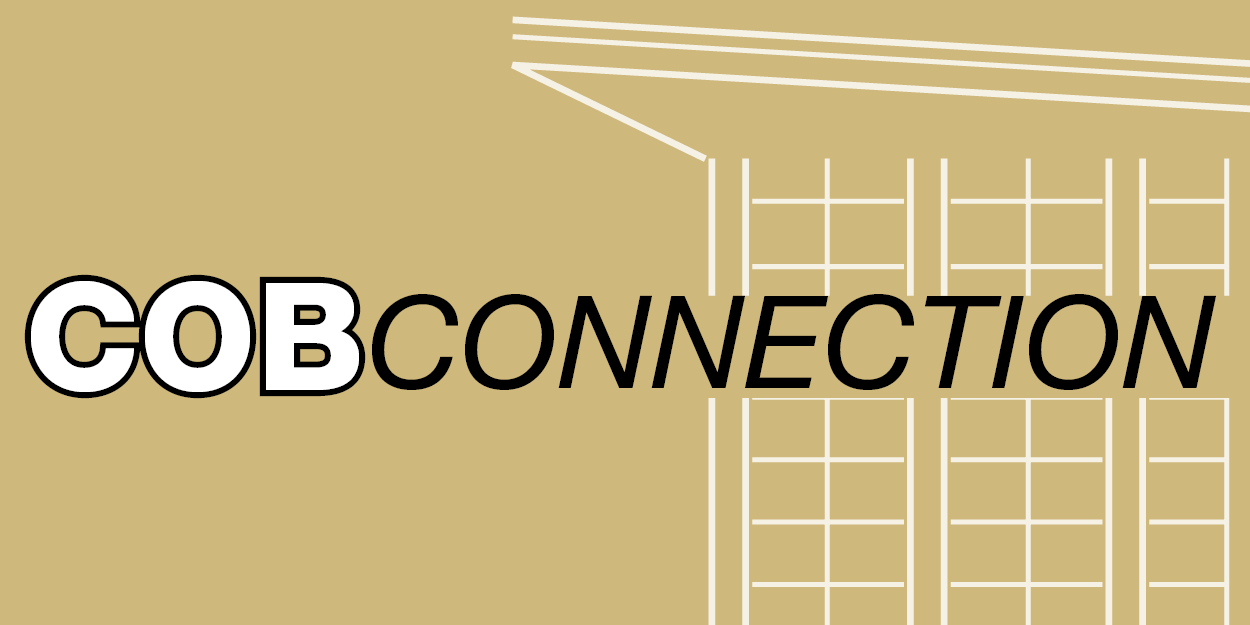 College of Business Faculty & Staff, 
As we close on the academic year and prepare to celebrate the Class of 2021, we reflect on an eventful, and oftentimes unconventional, year at UCCS. Our graduates worked incredibly hard these past few semesters to earn their degree and we are thrilled to recognize them in virtual and in-person celebrations this week.
Today, we will participate in a virtual celebration to recognize the Class of 2021. Earning a degree is a tremendous achievement and we are so proud of our business graduates for their resiliency as they completed their final semester at UCCS. If you would like to watch the virtual event, please visit commencement.uccs.edu. The virtual ceremony will begin at 1 pm on YouTube Live.
On Monday, our graduates will attend the Picture on the Plaza event on UCCS campus. This event marks the first in-person celebration since we moved remote last Spring. I am excited to cheer on the Class of 2021, take pictures, and personally congratulate them for their achievements. Please help us recognize our graduates by leaving a congratulatory message, attending the in-person "Picture on the Plaza" event, or watching Virtual Commencement online.
In February, Dr. Tejay and Dr. Klein launched a new academic journal, the Organizational Cybersecurity Journal (OCJ): Practice, Process, and People. The OCJ is an international, open-access, peer-reviewed academic journal. We look forward to their inaugural issue in September 2021. Learn more about the OCJ here.
The Daniels Fund Ethics Initiative (DFEI) Collegiate Program at UCCS College of Business continues to deliver principle-based ethics education to students, educators, and the business community. In addition to the Ethics Fellows and Ethics Champions programs, the DFEI Collegiate Program welcomed four new Student Ambassadors to the Student Ethics Ambassadors Program. Students across UCCS pursued principle-based ethics projects with a paired Ethics Fellow to engage in ethics opportunities, gain program-based work experience, and develop valuable leadership skills.
The DFEI Collegiate Program hosted its annual Ethics Summit to focus on the topic, "The Competitive Advantage of Ethics." Participants from 11 higher education institutions, including 111 students, 18 business and community leaders, and 50 educators, gathered virtually to engage in conversations around ethical behavior. To watch the keynote presentations and business panels, please visit the Southern Colorado Ethics Summit Playlist.
We also announced the re-launch of the UCCS Mini-MBA program. Thanks to the efforts of Dr. Stidd, Dr. Key, and Dr. Gonzalez-Padron, Mini-MBA participants will gain both the business acumen and ethical leadership skills required to be successful leaders in our community. Mini-MBA participants are also eligible to receive up to 50 percent off their Mini-MBA tuition with the new DFEI Education Scholarships program. Learn more about the Mini-MBA and scholarship opportunities here.
In April, we welcomed athlete, coach, activist, and gold medalist, Dr. Tommie Smith, to share his perspective regarding political protest in sport. Thanks to the UCCS Sport Management Program and the DFEI Collegiate Program at UCCS, our students and community engaged in an important discussion about athlete activism and ethical conduct. If you missed the virtual event, you can watch the event recording here.
This year, we are celebrating Dr. Don Warrick's 50th year at UCCS. Dr. Warrick is an award-winning educator, consultant, and author, and we are proud to recognize Dr. Warrick for his lifetime of achievements at UCCS. Thank you to the 100+ attendees of the very first Warrick Webinar on May 5, 2021. We look forward to commemorating this milestone with more Warrick Webinars and events throughout Summer and Fall 2021. To contribute to the Warrick Endowment for Excellence in Leadership, Teaching, and Culture, to leave a congratulatory message for Dr. Warrick, or to join an upcoming Warrick Webinar, please visit https://business.uccs.edu/warrick50.
Earlier this month, we announced that the Lifetime Entrepreneurship Award Luncheon will be held in person at the Ent Center for the Arts. Phil and Ann Winslow are outstanding business leaders, devoted philanthropists, community servants, and they have been integral to the automobile industry in Colorado Springs since 1961. After a year of virtual events, we are thrilled to celebrate the Winslows in person on July 21, 2021. To learn more about the honorees, the award, and the event, please visit www.uccs.edu/LEA.
In the 2020-21 academic year, we welcomed 11 faculty and staff to support the Colorado Cybersecurity Apprenticeship Program, the NSA Faculty Development Program, and other expanding departments and initiatives. They are already making important contributions to our College and community, and we are happy to have them on board.
I look forward to recognizing the accomplishments of our faculty and staff at the Annual Faculty and Staff Awards Banquet on May 21, 2021 in Kettle Creek. While I wish we could all be together on campus, the current event protocol requires us to limit our numbers for in-person events. We will host the award winners on campus and live-stream the event for our remote attendees.
It has been an honor to serve my first full academic year as dean of the College of Business, and I thank you for your role in helping support our efforts and initiatives  
Warmest Regards,

Karen S. Markel, Ph.D.,
Dean, UCCS College of Business
[ College of Business Home ]