Dwire Inquirer - August 2021
Tuesday, August 31, 2021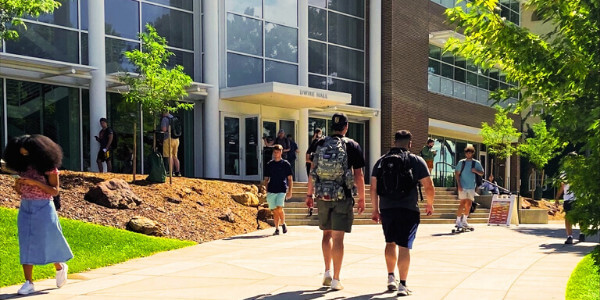 Dear Friends of the College of Business,
We have officially commenced on a new semester at UCCS! After a year of fully or partially remote classes, we are thrilled to welcome our students and community constituents back to campus for an in-person experience this fall. Many notable events will return this semester in both on-campus and virtual formats, and I hope you will join us for one of our upcoming opportunities.
Career Networking Night (CNN) will be held in Berger Hall on September 15th. CNN is a platform for students and alumni to network with employers and discuss potential career and internship positions. This is a great opportunity to showcase your company and meet our exceptional business students and alumni. Employers and alumni will need to register through Handshake to book networking sessions with students. Learn more here.
We continue to celebrate Dr. Don Warrick's 50th year at UCCS. Please join us for an upcoming Warrick Webinar on September 22nd entitled, "Committing to Personal Excellence." In this webinar, Dr. Warrick will discuss what committing to excellence means and how you and your organization can positively impact those around you. To contribute to the Warrick Endowment for Excellence in Leadership, Teaching, and Culture, to leave a congratulatory message for Dr. Warrick, or to join the upcoming Warrick Webinar, please visit business.uccs.edu/warrick50.
The UCCS Economic Forum will be held virtually on October 14th. This event marks the 25th anniversary of the Economic Forum in Colorado Springs. We are thankful to the Forum founders - Dr. Tom Zwirlein, Dr. Jeffery Ferguson, and Ron Chernak - for their vision and energy to develop the Forum into what has become an exceptional resource for the local business community. We look forward to another timely economic update from our current Economic Forum director, Dr. Tatiana Bailey, and the opportunity to reflect on the Forum's 25-year history in our city. For more information on the Economic Forum, please visit uccseconomicforum.com.
The Business Ethics Case Competition is on October 23rd. Students will showcase their principle-based ethical decision-making skills to a panel of business professionals for a chance to win a cash prize. This event is sponsored by the Daniels Fund Ethics Initiative Collegiate Program at UCCS College of Business and it is a great opportunity for our graduate and undergraduate students to apply their business knowledge and critical thinking skills. We are still seeking panelists to listen to our students' case recommendations. If you are local professional and wish to participate, please email Dr. Tracy Gonzalez-Padron at tgonzale@uccs.edu. Learn more about the event here.
This fall, we welcome our very first cohort to the Executive Doctor of Business Administration in Cybersecurity Management (EDBA-Cyber) program. The EDBA-Cyber is designed to equip students to be scholar-practitioners who will develop skills for cybersecurity scholarship and apply current research to address complex problems in cybersecurity practice. I wish them the best of luck in their first semester, and I look forward to meeting them at the welcome reception in September.
We recently introduced our new 30-credit hour General MBA, which is the only degree program of its kind in Colorado. Each MBA student is unique, and the new General MBA gives even more freedom and flexibility to our students to choose the timing, course delivery, format, and electives that work best for their professional goals. We encourage you to learn more about this new academic offering by visiting our website and attending one of the upcoming information sessions.
The 2021-22 academic year is shaping up to be a lively, busy time for the College of Business. I look forward to connecting at an upcoming event and I wish you all a healthy and safe fall semester.
Warmest Regards,

Karen S. Markel, Ph.D.,
Dean and Professor, UCCS College of Business
[ College of Business Home ]