2018 Lifetime Entrepreneurship Award
2018 Lifetime Entrepreneurship Award
2018 Honoree - Brenda Smith
We were pleased to present Brenda with the 2018 Lifetime Entrepreneurship Award at the 10th annual award luncheon on May 18, 2018. With a powerful work ethic, discerning spirit and kind heart, Brenda has established herself as a respected leader. Her approach to business has been one grounded in mentorship. Having benefited from a UCCS faculty member's interest in her personal success, she pays it forward by mentoring those around her.
Brenda spent over 36 years at BKD, LLP in Colorado Springs where she was the first woman to be appointed managing partner and the first woman to be elected to the company's governing board.
Today, she co-owns the newly renamed Garden of the Gods Collection. Her many and various charitable pursuits include founding the Colorado Springs Leadership Institute, co-founding the Colorado Springs Chamber Nonprofit Partnership, and spearheading the establishment of an endowment in the name of UCCS Accounting Professor Kirk Wilcox.
We are inspired by her passion, endurance and integrity displayed over several decades.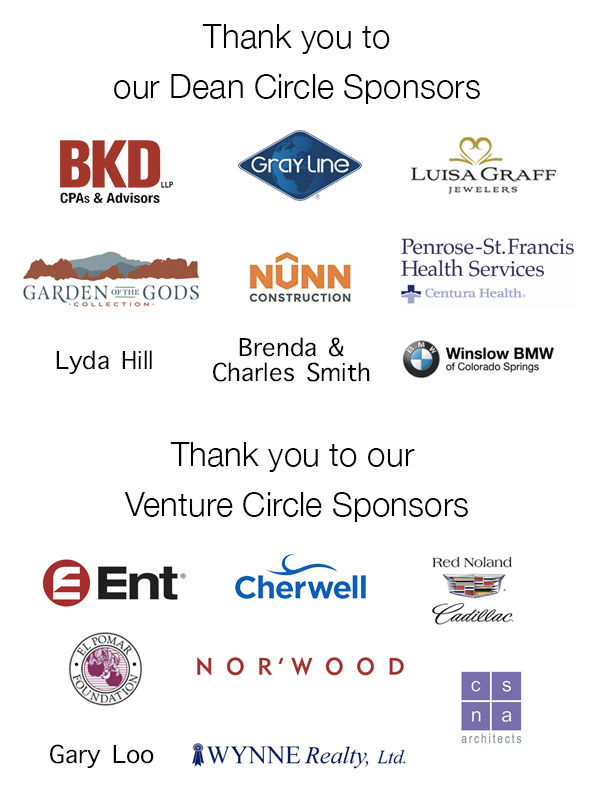 Partner Sponsors
ADD STAFF, Inc.
ANB Bank
The Broadmoor
Bryan Cave
Central Bancorp
Colorado Springs Regional Business Alliance
Discover Goodwill
The Equity Group
First Presbyterian Church
Griffis/Blessing, Inc.
Land Title Guarantee Co. 
Lewis Roca Rothgerber Christie
Jon + Becky Medved
N.E.S. Inc.
NFP
Olson Plumbing
Pikes Peak Hospice and Palliative Care
Reliant Construction
Stockman Kast Ryan + Co. LLP
U.S. Bank
United States Olympic Committee
UCCS Chancellor's Office
Woodford Manufacturing