How good is your company's mobile strategy?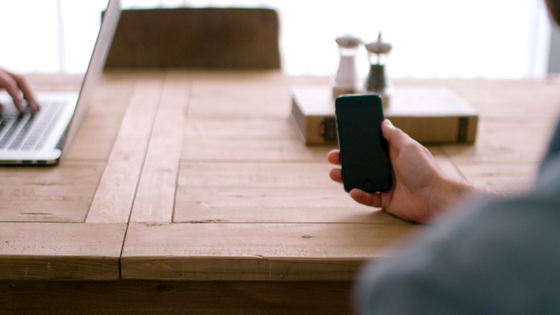 Friday, April 27, 2018
Martin Key, College of Business, Colorado Springs Business Journal
---
If it comes down to you and a competitor for a higher search-engine ranking, the firm with a better mobile experience for customers will win.
---
Problem: Your business has an online strategy, but it has not yet optimized for mobile device users. What are the first steps for making sure you're prepared to deliver value to your customers on their mobile devices?
In case you're still not sure of the overall impact mobile devices such as smartphones and tablets have made on the digital-business landscape, just Google it. In fact, Google has officially acknowledged that because mobile use is so prevalent, their search algorithm shows preference to websites that are optimized for mobile experience. That means, if it comes down to you and a competitor for a higher search-engine ranking, the firm with a better mobile experience for customers will win. Here's why: According to Pew Research, nearly 80 percent of Americans own smartphones, up from 35 percent in 2011. Among 18- to 29-year-olds, 94 percent have smartphones; for 30- to 49-year-olds the figure is 89 percent. Mobile represents 47 percent of all email open rates. Almost 60 percent of all web searches occur on a mobile device. So maybe it's time to reconsider your mobile strategy.
There are three key concepts to providing value through mobile: utility, trust and user experience. The "here-and-now" aspect of mobile device usage is central to all three.
Utility is all about the practical nature of value delivery. Customers on mobile devices often want to fulfill a need that corresponds to their location. For example, they need directions to your business, want recommendations for where to eat after shopping or a place to stay when leaving the airport, etc. Utility captures how smartphones are used and valued for practical problem solving.
Trust is also very important in mobile strategy. Customers who use mobile usually make quick decisions in the here and now and need indicators of why they should do business with you. Take ride sharing, for example. What does it take to trust hailing a ride with a stranger? Uber and Lyft both show customers a picture of their driver, the satisfaction ratings they've received from other passengers, the make of car they are driving. All these details help customers feel safe.
The last feature of concern is user experience, sometimes referred to as "UX" — the user's overall satisfaction, ease of use and quality of experience with your mobile presence. The ease of navigating to specific information, and how well the mobile site appears overall (color choice, logo design, etc.) can be crucial to your conversion rate. In short, because you're presenting your business/value proposition on a small device that users depend on for almost all their digital needs, you need to think about reducing every barrier that may stand in the way of a great experience. Here are some things you can do immediately to help ensure your mobile presence is appealing to customers.
Begin with some questions. What are the three most important pieces of information customers need from your mobile presence? How does your website render on a small screen? Have you looked at your mobile site on an actual mobile device? Have you asked customers if they find the mobile version of your site easy to navigate? Does it load quickly? Are you providing the information they need?
Build your own branded mobile application. Not every business needs their own app, but mobile users spend about 90 percent of their time on apps. Apps provide a better overall user experience than mobile websites, and they have custom functionality like push notifications that can increase overall engagement, repeat usage and, in some cases, increased sales.
Don't stop with your first attempt. The truth about anything digital is that the first attempt is rarely the best or last, and mobile is no different. There will be things that work and things that won't, so make changes, experiment, make more changes and evaluate the results. The good news is that mobile isn't going anywhere, so now is the time to start figuring out a mobile strategy that works best for your business.
Martin Key, Ph.D., is assistant professor of digital strategy and marketing in the College of Business at UCCS. He has been involved with a number of high-tech and digital startups as a strategic consultant. Contact: OPED@uccs.edu
[ Continue Reading on CSBJ.com ]