Global Portal returns to UCCS, connecting strangers from around the world
Tuesday, August 28, 2018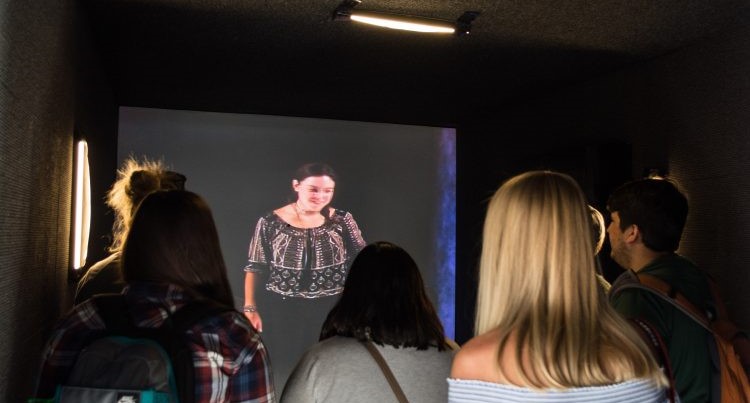 UCCS Communique
---
Starting Sept. 17, students will be able to travel across the world without leaving campus when The Portal returns to campus for a second installation.
---
A gold shipping container will appear adjacent to the Kraemer Family Library and the south entrance to the University Center. From within, students can directly communicate with people from locations throughout Africa, Asia, South and Central America, Europe, the Middle East and various states across the U.S. For a full list of locations available to UCCS, go to https://www.sharedstudios.com/sites/.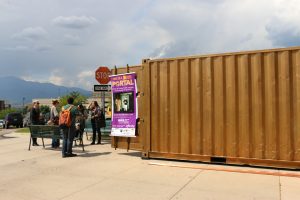 The Portals were created by two former D.C. journalists, Amar Bakshi and Michelle Moghtader, with a desire to provide people from different cultures with a space to connect and develop deeper understandings of one another. To make this possible, the shipping containers are outfitted with audio-visual technology and a life-size screen to make real-time communication possible.
The Portal project is spearheaded by the Daniels Fund Ethics Initiative at UCCS with a desire to facilitate honest conversation with people from different countries.
"We are pleased to host the Global Portals Project by Shared Studios on the UCCS campus again this year," said Tracy Gonzalez-Padron, director, Daniels Fund Ethics Initiative at UCCS. "Last year, in the 5 weeks that the portal was on campus, over 600 students had the opportunity to have an interactive experience with the global community on many levels; from academic, to community, and even personal."
In one experience, Kayla Gronseth Boyer discovered a connection with a woman from San Francisco...
[ Continue Reading UCCS Communique ]