New UCCS downtown campus means business
Wednesday, September 19, 2018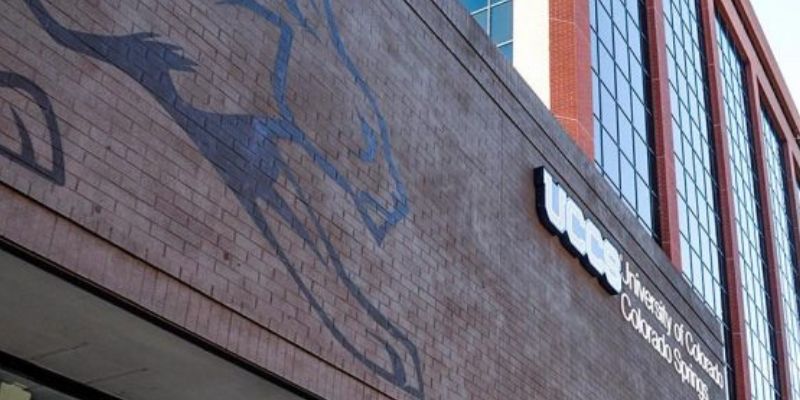 The two-story building at 102 S. Tejon St. known as the Alamo Corporate Center annex used to blend right into the streetscape.
Now, after a makeover by Nor'wood Development Group, the former red-brick building that houses the downtown branch of UCCS has been transformed into a sleek and sophisticated, taupe and glass structure that jumps out like the mountain lion graphic adorning its façade.
Inside are a 36-seat classroom that will soon be fitted with advanced audio-visual equipment, a 16-seat seminar room with a long table for community meetings, an office for the center's director and a large open space facing Tejon Street furnished with four-top tables, a cushy sofa and chairs for group learning and conversations, study areas and a wet bar.
The UCCS Downtown center was launched Sept. 10 with a door-opening ceremony held outside the distinctive building. It is already getting lots of use, said Stephannie Fortune, executive director of Regional Connect, a group of campus and community leaders that conceived the idea for the facility.
Classes are being offered by the College of Business and School of Education.
The center's Mini-MBA program met for the first time at the center Sept. 11. The Teacher Leader Academy, a leadership program for teachers who want to advance in their careers, meets every Saturday.
The center also is welcoming business and community groups.
"Last week, we had the City for Champions spend time here in the afternoon to talk about...
[ Continue Reading the Colorado Springs Business Journal ]