Students develop lasting connections at annual Career Networking Night

UCCS College of Business
Tuesday, September 18, 2018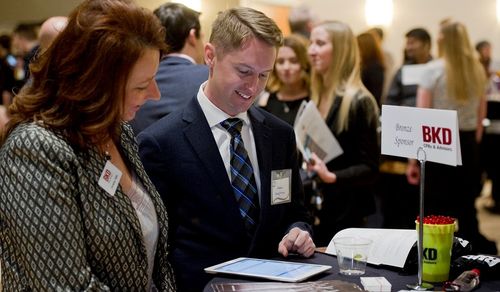 Networking is a fundamental component of a successful professional career. In recognition of its importance, the College of Business Career Development Center developed Career Networking Night, an evening devoted exclusively to building relationships.
On September 19 from 6:00 p.m. to 8:00 p.m., UCCS students and alumni will practice their communication skills, explore internship and career opportunities, and develop lasting connections with businesses and community professionals.
"The skill of networking is invaluable to working professionals, no matter their career stage," said Meghan Stidd, director, Career Development Center. "Career Networking Night is an excellent opportunity for students to step outside their comfort zone in an environment that recognizes effort and potential. Each employer in the room is advocating for student success and the value of connections between UCCS and the broader community."
Attending students have secured employer connections, internships, and even full-time jobs. Bryan McCauley, UCCS College of Business alumnus, discovered his current job through contacts he made at the event.
"At Career Networking Night I was introduced to FirstBank, where I was able to speak with several of their employees and learn about what their organization had to offer" said McCauley. "Upon graduating, I applied to FirstBank and accepted a full-time position shortly thereafter. I credit Career Networking Night for providing me with the tools I needed to successfully secure a full-time position with such a great organization."
Registration is currently open for all UCCS students. Reserve your spot at www.uccs.edu/business/career. For questions, contact the Career Development Center at (719) 255-3120 or email cobplace@uccs.edu.
[ # ]