UCCS attends 2018 Daniels Fund Ethics Consortium Summit
Thursday, November 1, 2018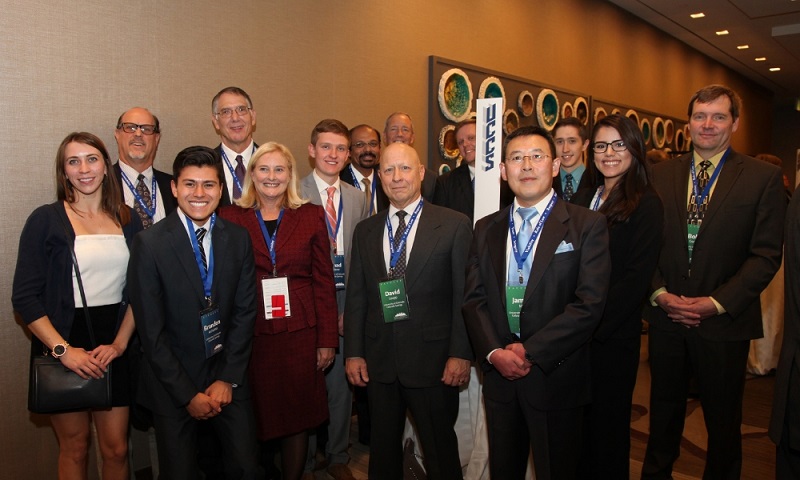 A UCCS delegation of four students, four faculty members, and four business members attended the 5th annual Daniels Fund Ethics Consortium Summit on October 18-19 in Denver, Co. All participating Daniels Fund Ethics Initiative Collegiate Programs were in attendance, focusing on the topic, "Putting ethics into practice" with supplemental workshops and small group discussions.
The Daniels Fund Ethics Initiative at UCCS College of Business identified their summit representatives through a selective process looking for leaders in ethics at UCCS and in the community. The 12 participants, joined by Dean Stephen P. Ferris and Tracy Gonzalez-Padron, included:
Students
Andrew Stevenson, junior, Business Administration major
Brandon Archuleta, senior, Finance major
Rubi Diaz Delgado, senior, Chemistry Pre-Dental major
Chad Glover, senior, Finance major
Faculty
David Leupp, Senior Instructor, Business Analysis
Bob Cook, Instructor, Information Systems
Gordon Stringer, Senior Instructor, Finance and Information Systems
Jian (James) Ma, Associate Professor, Information Systems
Business
Mike Fryt, Corporate Vice President (Retired), FedEx Corporation; UCCS Corporate Vice President Tax (Retired); UCCS College of Business Executive in Residence
Aaron Zimmerman, Financial Advisor, Edward Jones Investments
Nick Siakotos, Risk Manager, GE Johnson Construction Company
Eric Kennedy, Optician, Chapel Hills Vision Clinic
UCCS Chancellor Venkat Reddy was in attendance for the Kick-Off dinner on Thursday, October 18. 
Over the course of two days, 182 attendees listened to a series of keynote presentations, panels, and small-group discussions designed to promote ethical business conduct in the workforce. Business leaders were a primary focus of the event, encouraging and facilitating conversation in order to supply students with examples from a real-world professional environment.
"The keynote addresses were thought provoking," said David Leupp, senior instructor, College of Business. "Small group discussions gave us an opportunity to interact with both students and business leaders. [The Consortium Summit] will inform future discussions of ethics, and has already caused me to evaluate some business analysis issues in an ethical light."
The Summit included a kick-off dinner with keynote speaker Jake Jabs, President and CEO of American Furniture Warehouse. The following day, participants listened to several keynotes from business leaders Bob Hottman, former CEO of EHS&H, partner of Plante Moran, Leroy Williams, CEO of CyberTekIQ, former CIO, Ball Corporation, and Erica Salmon Byrne, Executive Vice President of Government & Compliance, Ethisphere. Two business panels were also included.
The Summit was sponsored by the Daniels Fund Ethics Initiative Collegiate Program, the University of Colorado Denver, and the University of Colorado Law School.
"This event allowed me to comprehend ethics at a deeper level and assisted in ensuring that I will be able to make ethical decisions in the business world," said Brandon Archuleta, UCCS senior. "I intend to apply what I learned in from the summit to my future businesses. Similarly, I can now clearly defend the importance of ethical decisions and conceptually apply the concepts of ethics to both society and business."
"We especially appreciated the  business representatives sharing their ethical experiences in practice," says Tracy Gonzalez Padron. "Each member of the UCCS group left the summit with a commitment to continue conversations on ethics at UCCS and their place of business."  
[ # ]