Seminar series in Colorado Springs to examine multi-generational workforce
Thursday, January 11, 2018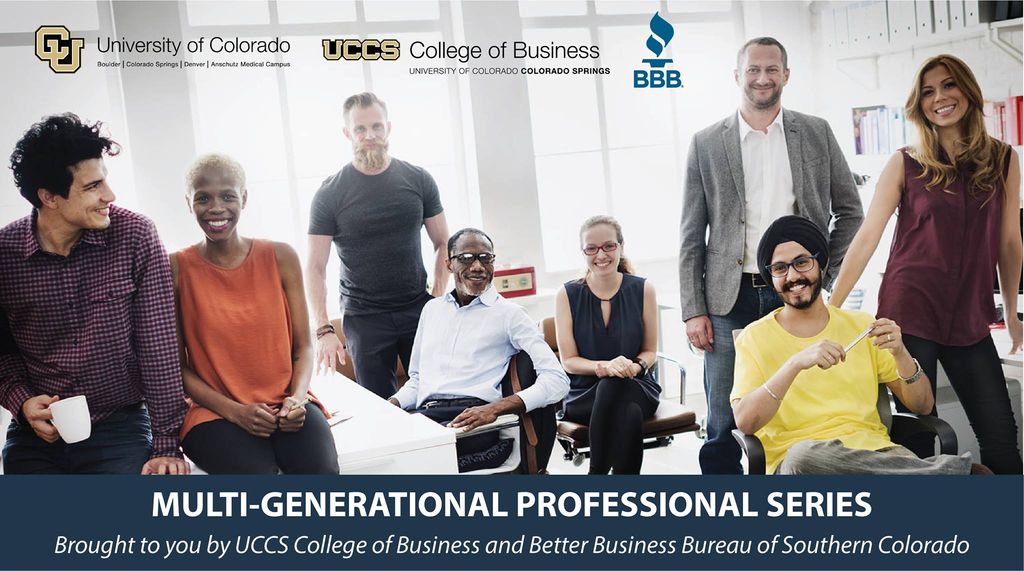 For the second year, the Better Business Bureau of Southern Colorado and the University of Colorado at Colorado Springs College of Business are teaming up to host a seminar series to address the human resources and marketing needs of small-business owners and professionals.
The four-part, interactive, professional development seminar series, titled "Multi-Generational Professional Series," begins Feb. 1 and ends June 21.
"Attendees will learn concepts and strategies impacting a multi-generational workforce," a news release says. The four tracks are tailored for human resources, management and marketing professionals; Track 3 is open to all but designed for millennials, who make up 26 percent of the Colorado Springs population. Currently one-third of the workforce, millennials will make up half of the workforce by 2020, the press release notes.
"All generations have things in common, but they also have differences. We want to know why," said UCCS event coordinator Shawna Lippert.
The series' facilitator is Scott Van Ness, an instructor in operations management at UCCS. He earned his bachelor's degree in business administration at the University of Colorado at Denver and his master's in business administration at Golden Gate University in San Francisco. He is a retired U.S. Air Force colonel.
The inaugural series this year drew an average of 15 to each segment, "which is typical for a first-year program," Lippert said. She expects more at the next series.
Cost of the tracks varies from $100 to $200; all four require registration through UCCS. There are discounts for businesses accredited by the BBB and for businesses with a relationship with UCCS.
We're excited to again be offering this professional development series in conjunction with UCCS," Jonathan Liebert, CEO and executive director of the BBB of Southern Colorado, said in the release. "Learning to motivate, support and interact with employees from multiple generations is vital for business owners and other professionals."
Each track of the series is split into multiple two-hour sessions, occurring on Thursday mornings. An information session and kick-off event is set for 4:30 to 6 p.m. Jan. 18 at the Warehouse Restaurant, 25 W. Cimarron St. There is no cost to attend, but registration is required. To register or for more information, go to businessweb.uccs.edu/executive-education.
[ # ]