Workforce Asset Map offers one-stop for job seekers, provider
Tom Hutton, UCCS Communique
Thursday, November 30, 2017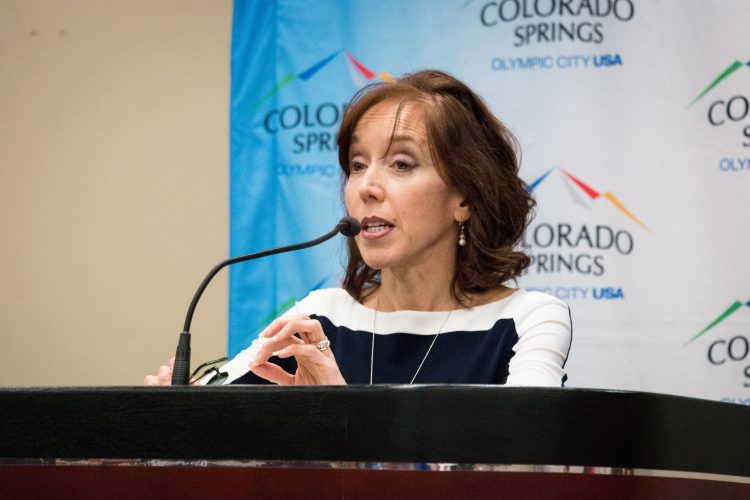 A website promising one-stop shopping for people seeking jobs, those offering them and students interested in researching career or education options was unveiled Nov. 28 at City of Colorado Springs administrative offices.
Developed by a team led by College of Business faculty member Tatiana Bailey, the Workforce Asset Map, or WAM aims to bring more than 60 local resources together into a single website. Bailey and Mayor John Suthers touted the effort before a small group of agency partners and members of the media in a brief ceremony.
WAM is available at http://wam.uccs.edu
UCCS senior Katya Campbell helped gather data for the workforce asset map.
WAM's goal, Bailey said, is to help close gaps in the Colorado Springs employment picture.
"Colorado Springs has a much higher incidence of people who would like to work but don't," Bailey said. "We also know there are a lot of young people who would like to have jobs in their field but can't find the jobs they need."
Bailey, who directs the UCCS Economic Forum, got the idea of bringing together resources into a single location following a forum panel discussion of the local workforce and skills gap. WAM brings together resources offered by various local workforce-related organizations. Those that worked to create the resource included UCCS, the Pikes Peak Workforce Center, Pikes Peak Community College, the Pikes Peak Small Business Development Center, Colorado Springs Chamber of Commerce and Economic Development Council and several high schools.
The website features information she believes will be helpful for those seeking a new job or those offering jobs, internships or apprenticeships. Additionally, the site contains information about job trends including future projections for specific fields as well as wage ranges.
"The website is one place where anyone can go and look up anything," Bailey said. "You go down these little rabbit holes and you look for it. For example, you can access wage data, how to build a better resume, local help with interviewing skills, how many graduates are being produced in various fields to name a few. I invite you to go to wam.uccs.edu and look it up. See what you find."
Funding for the website came from El Paso County and the City of Colorado Springs with campus support from the College of Engineering. A local firm provided the website design at no charge.
[ Continue Reading ]